Kids & Teens Roller Disco Parties!
Message us to book or ask questions or pop in to book.
Call 01209 211895 during opening hours.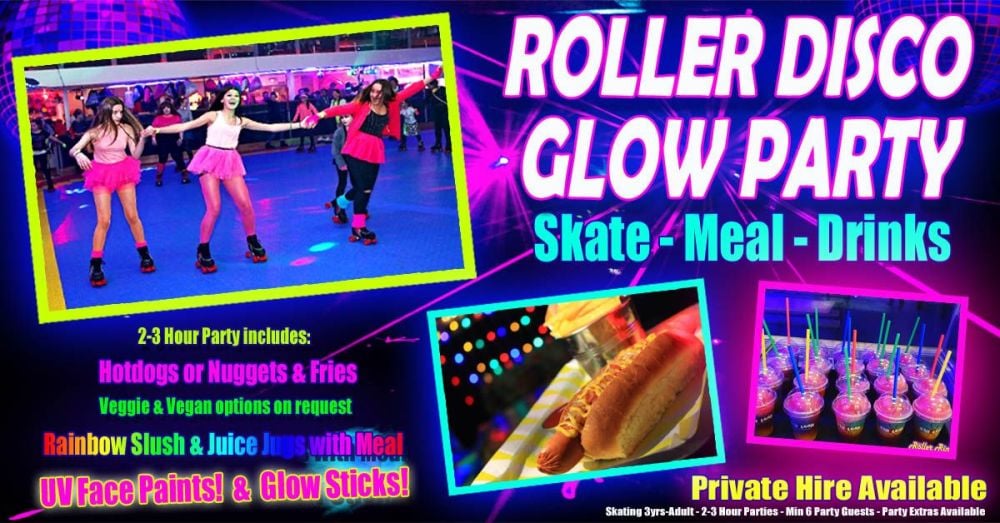 Kids Deluxe Glow Skate Party
2-3 Hour Party
Roller Disco - Meal - Drinks - Party Bag - Glow Face Paints
Wednesdays & Fridays 4pm-7pm £18.95 per Child (Min 6)
Saturdays & Sundays £21.95 per Child (Min 6)
Roller Disco
Skating & Free Skate Hire if needed
Kids Party Food
Choice of Chicken Nuggets or Hot Dogs
Both served with Fries
(Veggie & Vegan option available)
Rainbow Slush Drink
Juice Jugs served with the Food
Neon Glow Party Bag
UV Glow Face Paints plus Brushes & Mirrors
Party Bag includes:
Glow Stick
Glow Bracelets
Neon Mesh Gloves
or Neon Headbands or Sweatbands
plus a Sweet item.
4 x Non Skating Adults Free Entry with the Party
Adults Skating £9 with the Party
__________________________________________________________________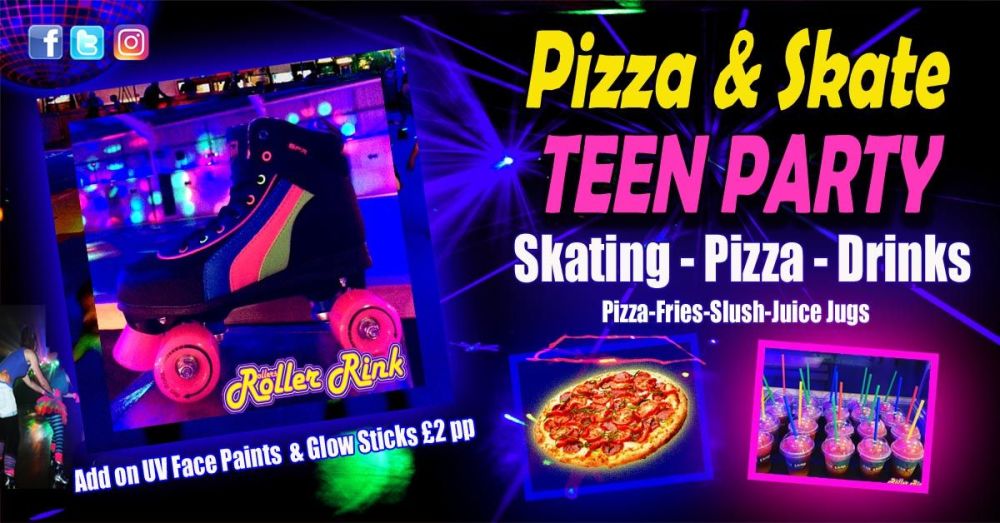 (Parents can pay to skate & buy their own Meals & Drinks from the cafe)
Teen Pizza and Skate Party
3 Hour Party
Wednesdays & Fridays £16.95 per Child (Min 6)
Saturdays & Sundays £17.95 per Child (Min 6)
Roller Disco
Skating & Free Skate Hire if needed
Teen Party Food
Pizza Slices and Fries
Rainbow Slush Drink
Jugs of Juice served with the Food
You are Welcome to Bring a Birthday Cake
4 x Non Skating Adults Free Entry with the Party
Adults Skating £9 with the Party
__________________________________________________________________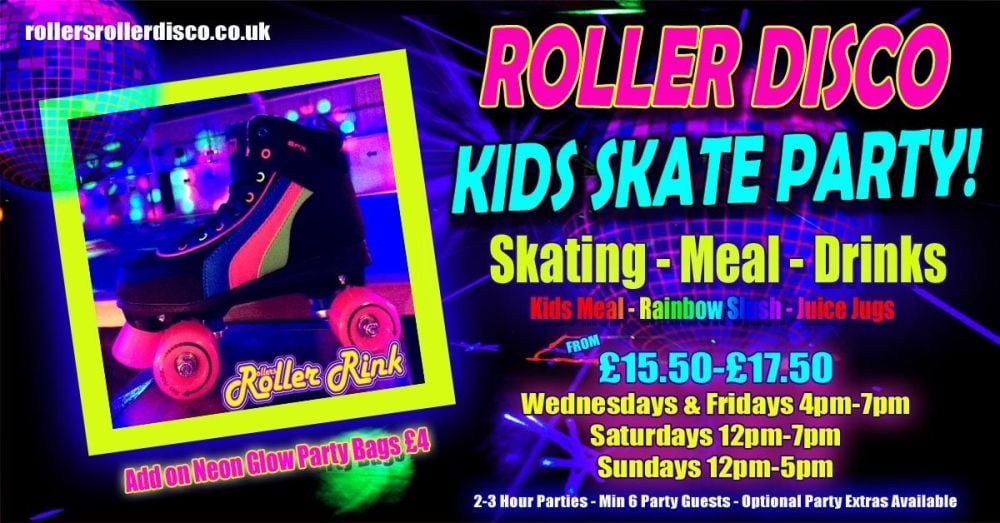 Kids Skate Party
2-3 Hour Party
Wednesdays & Fridays £15.50 per Child (Min 6)
Saturdays & Sundays £17.50 per Child (Min 6)
Roller Disco
Skating & Free Skate Hire if needed
Party Food
Nuggets or Puppy Dog with Fries
(Veggie & Vegan option available)
Rainbow Slush Drink
Jugs of Juice served with the Food
You are Welcome to Bring a Birthday Cake
4 x Non Skating Adults Free Entry with the Party
Adults Skating £9 with the Party
_______________________________________________________