Standard Roller Disco Ticket Prices
Prices are for All Ages 3yrs-Adult
Advance online Tickets
Skating £9 with own skates
Skate Hire £3.50
Non Skaters £2.50 entry
(Walk ins if open and space available, Call ahead to check!)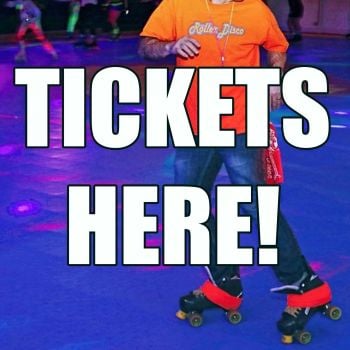 Useful Info:
Bookings only to avoid disappointment.
Book Online or Call 01209 211895 to book over the phone.
Walk-ins allowed if spaces are available. (call ahead to check)
Price on the door maybe higher from online ticket price.
Rinkside Cafe, Bar, Arcade & Skate Shop Open
Free Parking
We accept all major credit/debit cards at the Pay Desk, Skate Shop, Cafe & Bar.
Cashback is available when you pay by debit card.
If you are bringing your own skates please note we do not allow Skates with plastic Wheels or Worn Stoppers.
Skate Hire & Safety Gear
Smallest hire size skates are a 6 junior (age 3yrs+) and the largest size is an adult size 13.
Quad Skates in Sizes 8 junior- 13 Adult
Little Trainer Skates with stabiliser wheels are now available for Toddlers in a size 6 junior - 13 junior.
Safety Gear inc. Wristguards, Knee Pads, Elbow Pads & Helmets are available free to loan.